NEWS 2023
I. Projet prévu à l?ouverture :
L?ouverture est prévue pour le mois de Juillet 2023.
Intitulé des travaux Clients
Travaux d?Etanchéité liquide – EPTV / Alger Boulevard des martyres
Travaux Calorifugeage – ENGTP / ZOTTI
Travaux Calorifugeage – INERKIB / Mostaganem
Travaux de Maçonnerie – COSIDER / Berraki Hôpital 120 Lits
Sandblasting / Painting of the Bacs – ENCC METALENG Bel Abbes (2nd part)
Travaux Sablage / Peinture des Bacs – ENCC EL HAMIZ
II. Health, Safety & Environment HSE :
Environmental component In accordance with the law n°83-03 of 5 February 1983 on the protection of the environment, and thanks to the efforts made by the SAI work team at the site level (HTJ project) to protect the health of workers and the ecosystem. The unit was distinguished by dominating its pairs by winning the trophy of the best company in terms of environmental preservation and ecosystem. Our Unit considers health, safety, and environmental management to be one of the key of success factor for the Company.
L?Unité SAI considers health, safety and environmental management one of the key success factors of the Company.
L?objectif « Zéro Accident » a été atteint en ce mois -ci suite à la vigilance et au respect des instructions de sécurité des responsables HSE des différents chantiers.
En ce qui concerne la situation sanitaire dû à la COVID-19, l?Unité veille toujours au respect du protocole sanitaire au niveau du siège & dans tou
Clients satisfaction
Satisfying of our clients is our main goal.; USAI always aims to develop and improve its activities in the long run.
Attestations of good execution have been delivred from our clients such as :
client ENCC SPA unit SMIND: Supply & placement of cold heat removal on the pipes:
16" 4,000 linear meter;
18" 4,000 linear meter;
For the project: ammonia transfer line from the factory (FERTIAL) to the port of ANNABA.
Client ENCC SPA SMIND unit: Supply & installation of sandblasting and painting of three LPG cigars (CO2, CO 4, CO8).
Client AMM divindus Furniture & Joinery: Cladding works, supply & installation of translucent.
Through its Quality Management Service, the USAI Isolation Services and Activities Unit would like to draw attention to the crucial role it played in helping Ms. Dilmi Aicha Nessrine complete her study end project for a master's degree in project management at the National Higher School of Management.
We sincerely congratulate the student for this remarkable achievement, and we are honored to have contributed to her academic development. We wish her a bright future full of success in his future projects.
We wish her a bright future full of success in his future projects.
Clients satisfaction
Nous sommes ravis de partager avec vous tous une nouvelle importante pour notre Unité
Nous avons récemment reçu une attestation de bonne exécution pour nos trois projets de calorifugeage : Tnerkouk, Hassi Tidjerane et Hassi Ba Hmou, cette reconnaissance témoigne de l'engagement exceptionnel de notre équipe envers la qualité, la collaboration et la réussite. Nous tenons à exprimer notre gratitude envers chacun des membres de l'équipe des projets mentionnés pour leur travail acharné et leur dévouement. Cette attestation renforce notre engagement continu à fournir des résultats exceptionnels pour nos clients et partenaires. Merci à tous pour votre soutien constant, contribuant ainsi à faire de notre Unité un leader dans notre domaine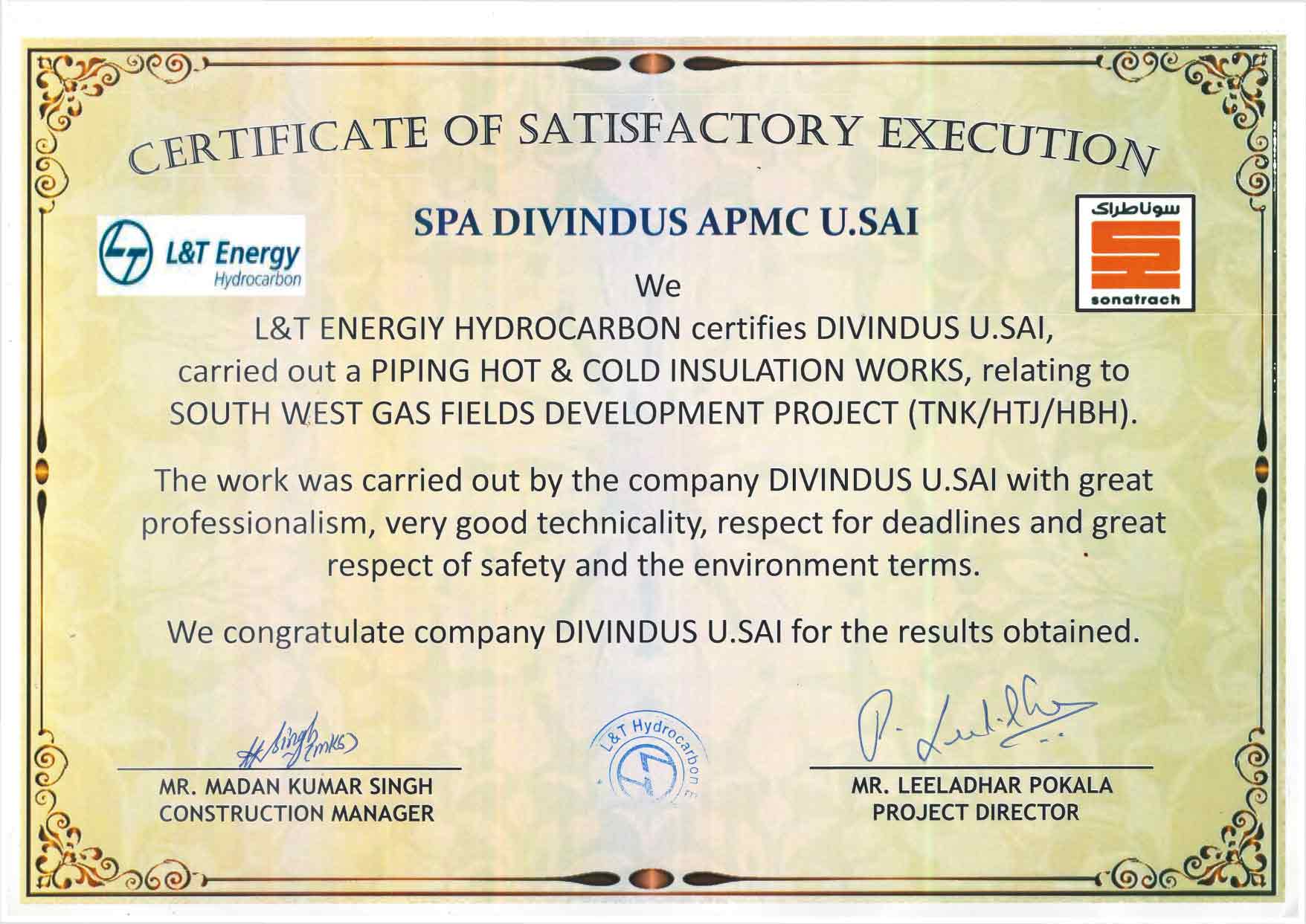 Projet hôpital de 120 lits à BARAKI
As part of its strategic diversification, the USAI Insulation Services and Activities Unit, represented by its director, Mr. Mokdad Mourad, visited, accompanied by the Works Department, the project to build a hospital in 120 beds in BARAKI. This achievement is done in collaboration with the D.C.E.T Cosider Construction and will cover an area of 12,892.80 square meters.
Dans le cadre de lutte anti incendie
L?entreprise a organisé une séance de sensibilisation sur l?utilisation des extincteurs.
Projet AÏN EL TÜRK-ORAN
Conclusion du contrat relatif à la réhabilitation du centre de vacances familial sis à AÏN EL TÜRK-ORAN .
I. Projet prévu à l?ouverture :
? EPTV / Alger Boulevard des martyres (Etanchéité liquide) ; contrat toujours en instance et pourtant signé par nos soins depuis Janvier 2023 ; L?EPTV saisi fin septembre sans suite.
? ENGTP / ZOTTI (Calorifugeage) ; contrat signé et SONATRACH pas encore décidé ;
? INERKIB Mostaganem : annulation de l?ODS;
? ENCC EL HAMIZ Mostaganem (02 Bacs au niveau de la centrale Mostaganem) des négociations sont engagées pour décrocher la totalité des bacs moyennant un rabais;
? NAFTAL / EL EULMA : Travaux Calorifugeage; En cours.
? MUNATEC (travaux d?étanchéité) : Khenchla 2 eme quinzaine du mois d?octobre, Biskra, Bechar et Ouargla, à planifier.
? ENCC AIN ERNET : Calorifugeage ;
? CP1Z : prévu pour le 15 du mois de Novembre 2023;
? MGMC : Ain Turc, travaux d?étanchéité ; contrat signé, reste les avenants à percevoir et l?ODS à notifier;
? PETROFAC : AIN TSILA, Régie / isolation, en négociation.